Introducing our Women's Health Corner!
Make sure to book mark our page that discusses foot & ankle topics specifically for women.
Click Here
Concord Office Now Open!
5310 Langford Avenue NW, Suite 101 Concord, NC 28027 (704) 746-9173
Podiatrists serving Mooresville, Huntersville, Denver, Concord, and Charlotte in North Carolina
Our physicians are board certified and board qualified by the American Board of Foot & Ankle Surgery, maintain the highest levels of accreditation and pursue ongoing education to stay up to date of the latest trends in podiatric medicine and surgery.
Founded in 1998 by Dr. Adam Shapiro, Foot & Ankle Associates is dedicated to providing the best medical and surgical care for your feet. With five convenient, state of the art podiatry offices located in Huntersville, Mooresville, Denver, Concord and the University area of Charlotte, the physicians of Foot & Ankle Associates provide comprehensive care for all foot and ankle conditions.
While our practice offers the most modern and innovative services available in Mooresville, Huntersville, Denver, Concord, and Charlotte, NC, our greatest distinction comes from the personal attention we give each patient. This commitment combined with our technical skill has been the hallmark of our long-term relationship with each patient.
A Commitment to Excellence
At Foot & Ankle Associates, our uniquely qualified podiatrists are dedicated to providing comprehensive care for individuals of all ages, ranging from pediatrics to geriatrics. We prioritize preventive care and early medical intervention, emphasizing the importance of maintaining healthy feet and ankles throughout life. Our team includes female physicians, offering a unique perspective on women's foot issues. Moreover, our doctors have a passion for treating children, addressing sports-related injuries, performing virtually painless ingrown toenail procedures, and boasting advanced training in managing diabetic foot issues, heel pain, and foot and ankle surgery. With our expertise and commitment to patient well-being, you can trust us to deliver the highest quality care for your foot and ankle health. 
Included among our range of specialties is:
Arch pain
Ankle Sprain
Sports Injuries
Children's Foot Problems
Arthritis
Fractures and sprains
Please click on the bold and underlined links above for additional information on each. If you don't see a condition you are suffering from, not to worry! Simply fill out the 
Contact Us
 form or give us a call, we're here to help!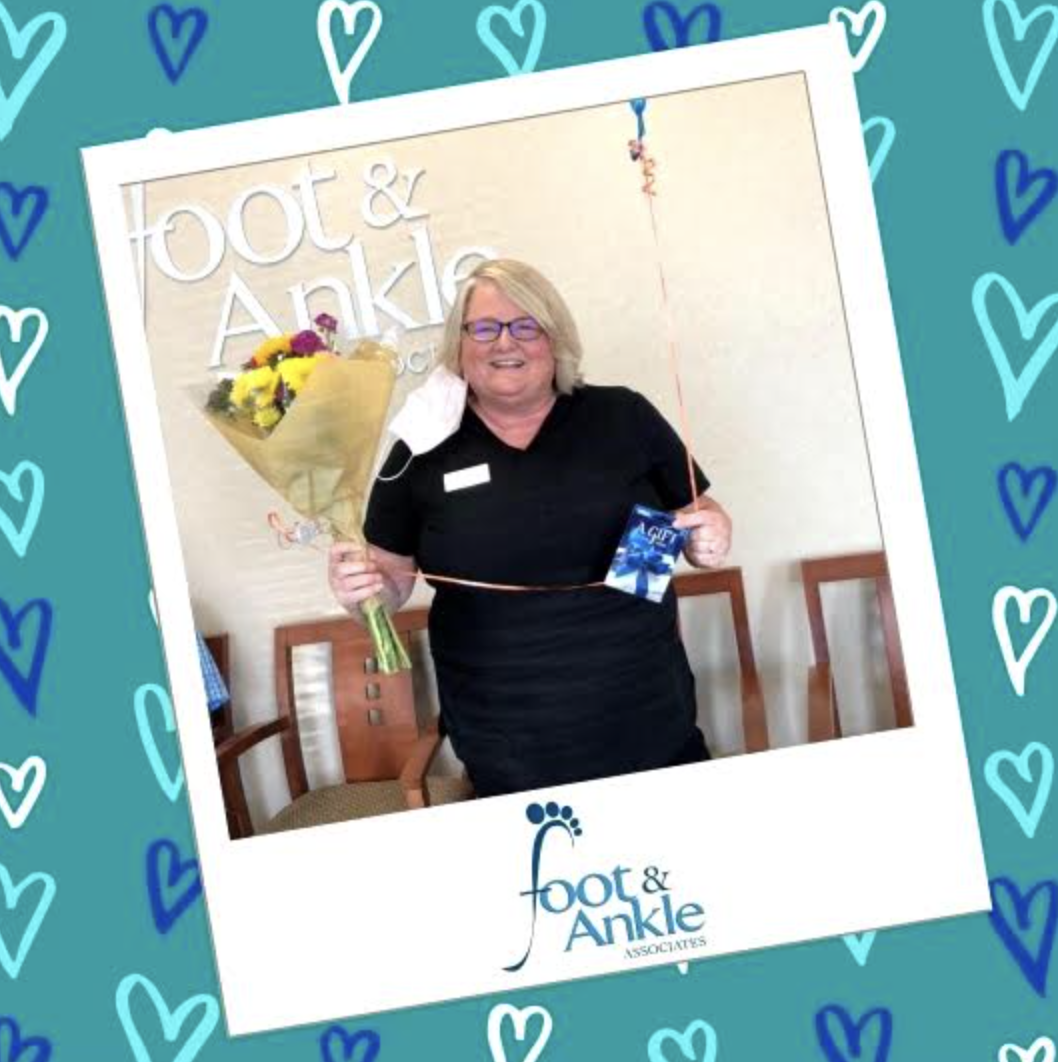 Sally
Congratulations to Sally for being our employee of the quarter! We appreciate everything you do for us here at F&A!
Heel Pain
A heel spur is calcium deposit located underneath the heel that causes small pieces of bone to protrude. Pain associated …
Diabetic Foot Care
People with diabetes are much more likely to suffer nerve damage, circulation problems, and infections — all problems that directly …
Custom Orthotics
Custom-made orthotics are prescription-grade shoe inserts that support and gently reposition the heel, arch, muscles …
Bunions
A bunion—also called Hallux Valgus—is a bump that appears inside the foot, around the (MTP) joint. This bump is actually a bone …
Major Insurances Accepted